All the cars. One search.
AutoTempest brings together listings from all the major used car sites, including

Used Cars
New Cars
Other Vehicles & Items
Used Cars
New Cars
Other Vehicles & Items

How AutoTempest Works
We aggregate millions of listings from dealers and private sellers, showing all the results for your search from each of our listings partners. We also generate comparison links for the remaining large sites we don't yet have partnerships with. Our goal is to capture all the results in single search, to save you time and help you find your ideal next car.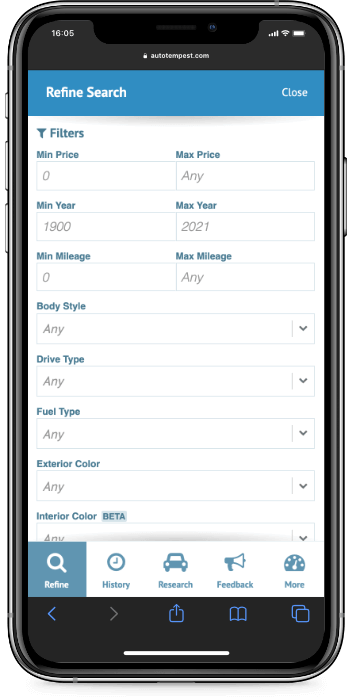 Just the Cars You Want
AutoTempest supports extensive search filtering for attributes from fuel type to interior color. Cast your net locally or across the country.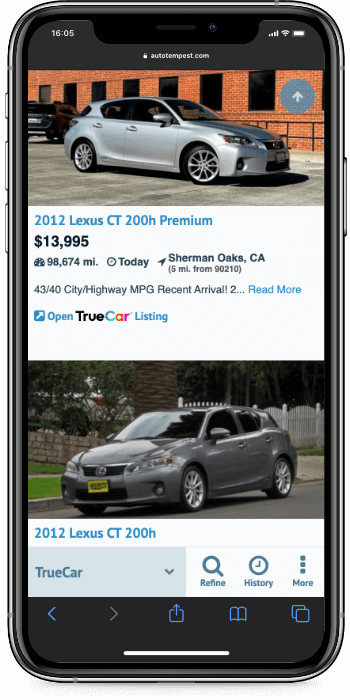 Browse Results
AutoTempest provides millions of listings from a variety of sources. Browse them by source, or all in a single list, with all the sorting options you'd expect.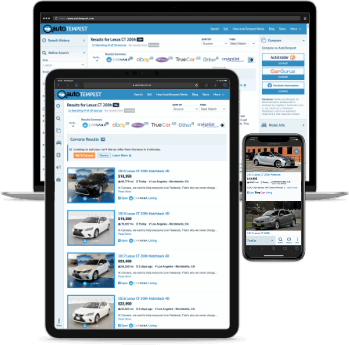 Search on Any Device
AutoTempest works well in your browser - on any device. This means you get the full power of AutoTempest on your phone, tablet, laptop or desktop.
Learn More About How AutoTempest Works
AutoTempest Partners
We've partnered with some amazing creators, including TheStradman, Samcrac and Shmee150. Find out more about the talented creators we work with to promote our brand.
See all of our partnerships
Used Cars or New Cars
We've always provided comprehensive car search tools, and now we've also teamed up with TrueCar to ensure no matter what you're looking for, you can find it on Autotempest.
What People Are Saying
AutoTempest is very helpful to find those hard to find autos. Very convenient to search many sources at once to bring up a nice list with just one search.
Buck
Winchester, TN
I don't know how someone hadn't come up with the idea of making a auto sale site search engine to include all other major car sale/auction sites in one easy place. I don't have to go to each major auto sales site one by one to do searches. AutoTempest is awesome.
Martin
Atlanta, GA
I enjoy researching pricing for various models, years, and trim levels for Mercedes Benz, and it is rare that I don't find something that I am looking for. Your website is a great resource, and the next time I am in the market for a vehicle, I will definitely make AutoTempest my first (and last) place to look.
Greg
Bay Village, OH
Not sure what car to buy?
When you have the right skills and information, the car buying process is easy and enjoyable. Here are some of the guides we've put together to help you on your way to buying your perfect car.